The Wedding of Leslie Carmel Breibart
And
James Joseph McAvoy

On a warm California evening, Leslie and Jim were married at the Del Valle Winery in Livermore, home of the secretive Lawrence Livermore Lab and The Centennial Light, the world's longest lasting light bulb, burning since 1901.
The brief ceremony on May 21 was officiated by Blythe Hanley, Leslie's friend from their days at the Academy of Art in San Francisco.
In his remarks during the ceremony, Jim quoted the immortal words of Lou Gehrig."...Today I consider myself the luckiest man on the face of the earth."
Leslie is the daughter of Jack and the late Paula Breibart and the late Linda Braum, her biological mother. Jim is the son of the late Aileen and Harold McAvoy, of Fresno, Ca.
Leslie, without attendants, was excorted down the grass aisle by Jack.
In attendance were Jim's two daughters, Camille and Rose, from a previous marriage and his siblings, Anne, John and Joan. Leslie's brother, Craig, his wife, Laurie, and two sons, Jacob and Kyle, were also in attendance along with Leslie's cousins: Mark from Boston, Becka from Missoula, Barry from Charleston and Leah from Santa Monica.
Leslie is employed in the architectural divison of the global company, Integrated Project Services Design Build and Jim by Central Concrete of South San Francisco.
The couple is residing at Jim's long-time home in San Leandro, Ca. with dog Jackson and cats Caroline (male
and Nina and Simone (female)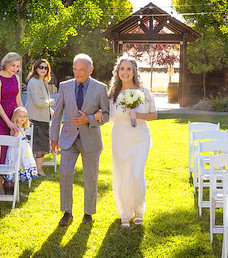 Jack and Leslie. Jim stomps the wine glass in the traditional end to the ceremony as Blythe looks on. (Photo by Becka)

CLICK HERE FOR MORE PHOTOS by Lisa Duncan